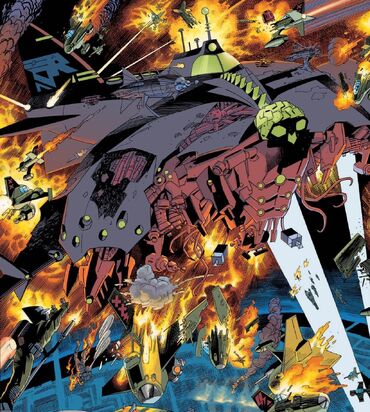 The Terror is a huge flying machine, piloted by Armand Robur, the French air-pirate and son of Jean Robur - a leading member of Les Hommes Mysterieux.
Jean Robur's original airship, The Albatross was shot down and destroyed at the Battle of the Somme in the First World War. The Terror was its successor and had been modified from its original design by Armand. Its primary weapons include air-to-air missiles and Heat-Rays salvaged from the Martian Tripods of the 1898 invasion.
While The Terror is primarily a flying machine, it is also a land craft and a submarine. Hira Dakkar, aged fifteen, used her knowledge of submarines to pilot The Terror over the Berlin Metropolis in 1941 to rescue Armand and her mother Janni.
Ad blocker interference detected!
Wikia is a free-to-use site that makes money from advertising. We have a modified experience for viewers using ad blockers

Wikia is not accessible if you've made further modifications. Remove the custom ad blocker rule(s) and the page will load as expected.