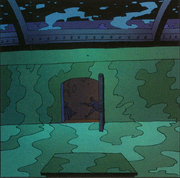 The Thames Tunnel was planned to link Rotherhithe and Shadwell but was abandoned halfway as costly and unsafe. It had a glass roof from which the river overhead was visible.
Rotherhithe Bridge was build above the river after construction was halted.
The Doctor used the tunnel as a base of operations, having built a poorhouse on its entrance to mask it. It is there that The Doctor was constructing an airship to oppose Dr. James Moriarty. However, the base and the airship was destroyed by The League when they flooded the tunnel by destroying the glass roof.
After the Martian invasion of 1898, tunnel was intended to replace the destroyed Rotherhithe Bridge, but work on the tunnel was impeded by the discovery of The Doctor's airship and the large numbers of drowned of Chinese workmen.
The Thames Tunnel, now known as Rotherhithe Tunnel was the first underwater tunnel in the world although its name is not mentioned in the comic.