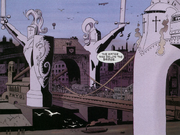 Rotherhithe Bridge was built in 1888 when the Thames Tunnel linking Rotherhithe and Shadwell was abandoned halfway as costly and unsafe.
During the Martian invasion of 1898, when Martian Tripods entered into London Rotherhithe Bridge was blown up by the British military after a Tripod was crossing the bridge, along with killing many people who were still on the bridge.
UPDATE 2017 - now that the Martians have left, some entrepreneurial Earthlings have designed a new one and would love your support! If you like their new design, find out more here [1]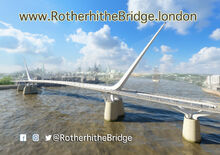 Ad blocker interference detected!
Wikia is a free-to-use site that makes money from advertising. We have a modified experience for viewers using ad blockers

Wikia is not accessible if you've made further modifications. Remove the custom ad blocker rule(s) and the page will load as expected.