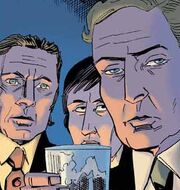 Jack Carter was a London mob enforcer.
In 1969, Jack Carter was hired by mobster Vince Dakin to investigate the murder of Basil Thomas. Carter's investigations lead him to an occult bookshop owned by Kosmo Gallion, the current avatar of Oliver Haddo's spirit and leader of his cult, who orchestrated Thomas' murder. Carter then kills Gallion and unwittingly disrupting Gallion's ritual from transferring Oliver Haddo's spirit to Purple Orchestra's lead singer Terner.
Source material
Edit
Jack Carter was created by Ted Lewis and appears in Jack's Return Home. The novel was memorably brought to life in the cult film Get Carter, starring Michael Caine as Jack Carter. The character is not fully named for copyright reasons.
Ad blocker interference detected!
Wikia is a free-to-use site that makes money from advertising. We have a modified experience for viewers using ad blockers

Wikia is not accessible if you've made further modifications. Remove the custom ad blocker rule(s) and the page will load as expected.