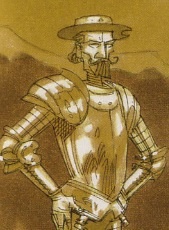 Alonso Quijano is a hidalgo who reads so many chivalric novels, that he decides to set out to revive chivalry under the name of Don Quixote. He recruits a simple farmer, Sancho Panza, as his squire.
After living many adventures through Spain, Don Quixote joined Prospero's Men in early 1620.
Source material
Edit
Don Quixote is from Miguel de Cervantes' The Ingenious Gentleman Don Quixote of La Mancha.
Ad blocker interference detected!
Wikia is a free-to-use site that makes money from advertising. We have a modified experience for viewers using ad blockers

Wikia is not accessible if you've made further modifications. Remove the custom ad blocker rule(s) and the page will load as expected.