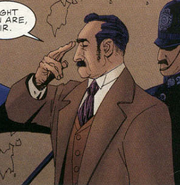 Inspector
Dick Donovan
was a detective hero who solved the
Hetty Duncan
murder.
When Mina Murray returned to England, he accompanied Nemo, Allan Quatermain and Henry Jekyll while Campion Bond briefed Murray about the appearance of Hawley Griffin
He also questioned Griffin after his capture, who agreed to cooperate with the secret services in return for a pardon and a possible cure.
Source material
Edit
Donovan was the narrator of many short stories written by Joyce Emmerson Preston Muddock
Ad blocker interference detected!
Wikia is a free-to-use site that makes money from advertising. We have a modified experience for viewers using ad blockers

Wikia is not accessible if you've made further modifications. Remove the custom ad blocker rule(s) and the page will load as expected.