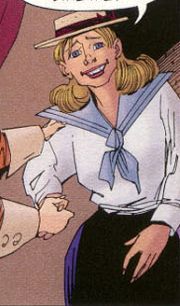 Becky Randall
was a girl of seven children of a poor family. She went to live with her stern aunts from Sunnybrook Farm in Riverboro, Maine. She was imaginative and managed to inspire their lives
She was a student in Correctional Academy for Wayward Gentlewomen by 1898 when she was raped by invisible Hawley Griffin, considered to be a miraculous immaculate conception.
Source material
Edit
Becky Randall appears in Kate Douglas Wiggin's
Ad blocker interference detected!
Wikia is a free-to-use site that makes money from advertising. We have a modified experience for viewers using ad blockers

Wikia is not accessible if you've made further modifications. Remove the custom ad blocker rule(s) and the page will load as expected.